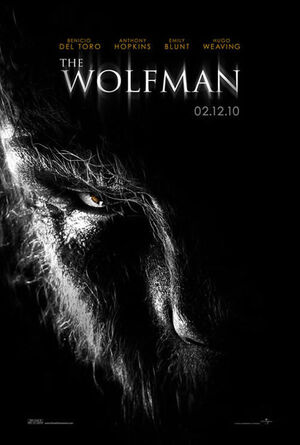 Set in the late 1880s, the film keeps the plotline of the original, with Lawrence Talbot (Benicio del Toro) reuniting with his estranged father John Talbot (Anthony Hopkins) following the disappearance of his brother. Lawrence Talbot's childhood ended the night his mother died. After he left the sleepy Victorian hamlet of Blackmoore, he spent decades recovering and trying to forget. But when his brother's fiancée, Gwen Conliffe (Emily Blunt), tracks him down to help find her missing love, Talbot returns home to join the search. He learns that something with brute strength and insatiable blood lust has been killing the villagers, and that a suspicious Scotland Yard inspector named Aberline (Hugo Weaving) has come to investigate.
As he pieces together the gory puzzle, he hears of an ancient curse that turns the afflicted into werewolves when the moon is full. Now, if he has any chance at ending the slaughter and protecting the woman he has grown to love, Talbot must destroy the vicious creature in the woods surrounding Blackmoore. But as he hunts for the nightmarish beast, a simple man with a tortured past will uncover a primal side to himself... one he never imagined existed.
Ad blocker interference detected!
Wikia is a free-to-use site that makes money from advertising. We have a modified experience for viewers using ad blockers

Wikia is not accessible if you've made further modifications. Remove the custom ad blocker rule(s) and the page will load as expected.