Featured Video
Featured Article
Set in the late 1880s, the film keeps the plotline of the original, with Lawrence Talbot (Benicio del Toro) reuniting with his estranged father (Anthony Hopkins) following the disappearance of his brother. Lawrence Talbot's childhood ended the night his mother died... More

Latest Blog Posts
---
Create blog post
Blogs
What would you give the new Wolfman Movie from 1 - 5 stars, and why?

Read more >

Welcome to the brand-new wiki for the 2010 remake of The Wolfman! The wiki is in its infancy with only basic information, so feel free to add articles, images, opinionated blog posts - or anything el…

Read more >
See more >
Featured Image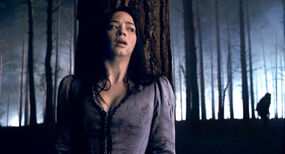 About The Wolfman Wiki
The Wolfman is a 2010 remake of the 1941 classic horror film The Wolf Man, produced by Relativity Media and distributed by Universal Studios. The remake is directed by Joe Johnston and stars Benicio del Toro, Anthony Hopkins, Emily Blunt, Hugo Weaving and Art Malik. Although originally scheduled for a November 6, 2009 release, it had been pushed back several times and will be released on February 12, 2010.
Ad blocker interference detected!
Wikia is a free-to-use site that makes money from advertising. We have a modified experience for viewers using ad blockers

Wikia is not accessible if you've made further modifications. Remove the custom ad blocker rule(s) and the page will load as expected.